It is highly recommended to match the seams using an "overlap" procedure. There is allowance for a four (4") overlap at each end.
Fig. # 7 To make this an easy one (1) person operation, I placed a clean pipe through a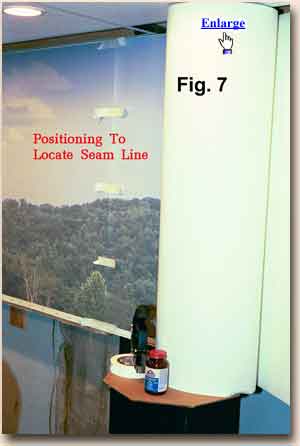 box. The box is supported using a work mate work bench. The backdrop roll is supported and easily rolled out, preventing any creases or rips !!!
Working from left to right, I mounted scene "A" (left side) first. Attached backdrops using staples at the top and bottom of backdrop. If you are mounting
the "right" side scene "first" REMEMBER to reverse the following procedure.
Since I decided to staple the scenes to my masonite, I had to come up with a clean "simple" procedure to attach the seams. This procedure is simple and gave excellent results.
Use "Elmer's Rubber Cement", to do all gluing operations. Use "Scotch - 3M" ( Safe –Release ) masking tape for a guide, and to protect the backdrops.